Comfortable travel mattress
Sleep well - even on your trip.
Do you think the beds are too hard on the tourist hotels?
Do not want to wake up with body aches and stiffness that can be felt by
Having been on a hard
hotel bed?
With Travelmattress used as a bed mattress you sleep well all night. You can customize the mattress how soft and flexible you want it.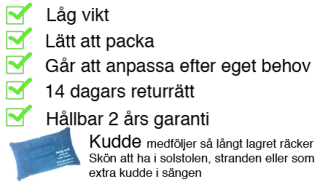 Travelmattress/ Resemadrass
Travel mattress is basically a medical air mattress with two air cores that overlap this allows to achieve a good distribution of pressure.
Travel mattress can adjust according to their needs without being an impact despite its low altitude
Bed dimensions: width 87 cm, length 195 cm, thickness 8 cm (packing size 30x20x3 cm, weight 1,6 kg) comes with a hand pump and a coating that makes the hotel bed sheets lying still.
14 days return policy, 2 year warranty.
All prices are in Swedish kronor, but converted to your currency at the current card or invoicing.
Approx prices (depending on the current exchange rate)

Sweden 990 Skr incl Shipping
Norway 932 SKR incl Shipping
exkl Nors tull o moms ca 350 Nkr
(Totalt ca 1220 Nkr)
Denmark 1010 DKK incl Shipping
Euro countries ca125 Euro incl Shipping
USA 205 USD incl shipping
Other countries email inquiry

Credit card payments, PayPal
Invoice 21 days, offered to Sweden and Norway.
Sleep tight wherever you are and make yourself at home.
In tourist hotels are most commonly used hard beds and no mattress pad, this does not fit all people and many of us have trouble sleeping well and wake up with stiff joints and body aches. What to bring travel mattress that can easily be packed in your suitcase could save your sleep on the trip and you can wake up more refreshed and enjoy more of the day..
Heard from customers
"Been in Thailand for 14 days with my mattress, it worked really well and was nice to lie on. My husband who had no one with him and tested mine will buy one for the next trip."

"It worked just fine for me.
It took a few nights before I learned how much air suited me best, but then I slept well. "

"I can recommend this mattress it works on these hard beds found in Spain and you feel even more rested when you don't spin around all night because the bed is hard and it wasn't at all that big to pack in your suitcase."

"I thought it would be warm to lie on but it was like lying on a regular mattress though softer even for me lying on the side"

"Finally something that works against these rock hard beds."